The Commons Foundation Names Ann Morrison as New President
And Expands Board of Directors With Appointment of Brock Wagstaff
Joe Jennings to Step Down as President After Launching The Commons Foundation In 2018 and Successfully Raising Over $5 Million to Build New Larkspur Library
Larkspur, Calif. (December 7, 2022) – The Commons Foundation (TCF), the designated nonprofit partner of the City of Larkspur that raised over $5M in funds to build the new Larkspur Library at The Commons, is pleased to announce the election of Ann Morrison as TCF's new president. Morrison, a former two-term mayor of the City of Larkspur, officially becomes TCF's new president on January 1, 2023. Along with the appointment of Morrison as TCF's new president, Brock Wagstaff has been appointed to TCF's board of directors.
Joe Jennings, who successfully launched TCF in 2018 with Kathy Green and Jeanne Friedel and raised over $5 million to build the new Larkspur Library, will step down on December 31, 2022, and continue as an advisor to the board of directors. Mr. Jennings and his wife lived in Larkspur from 2010-2020 and moved to Seattle in 2020.
"It is time to celebrate the generosity of the Larkspur community and to set the stage for the construction of the new library," said Joe Jennings, TCF president. "TCF needs a local leader who can expand our relationships and work with the city as we go from concept to construction, and to opening the new building. I am standing down so Ann Morrison can step up."
"Ann helped launch TCF in 2018-19 when she was serving on the City Council and as mayor, so she understands the challenges of public-private partnerships, and can make a big contribution," Jennings added. "There will be new challenges and opportunities for TCF and the City of Larkspur, and I am sure Ann and Brock can help us meet them."
In 2021-22, the City of Larkspur discussed and announced it would permanently move the Larkspur Library to The Commons. The city was able to win a $5.2M matching grant from the State of California and owns the land where the new library will be sited. Morrison and Wagstaff join TCF as the nonprofit announced it has reached its $5 million fundraising goal.
Ann Morrison is a former two-term mayor of the City of Larkspur and served as a member of the Larkspur City Council for eight years. She chaired both the Larkspur Library Community Committee and Central Marin Police Agency and she served on the Larkspur Chamber of Commerce and as liaison for the Larkspur/CM school district.
The Marin County native is a former small business owner in San Rafael and raised her four children through the Larkspur/CM/Tamalpais school district, along with two overseas postings with her family in Australia and Switzerland. Morrison attended Marin Catholic High School, University of Chico and finished her business studies at University of New Hampshire at Manchester.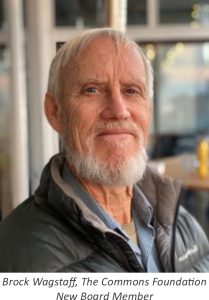 Brock Wagstaff is an accomplished architect and is the founder and former principal of Wagstaff + Rogers Architects (formerly Wagstaff Architects) in Mill Valley. Prior to his leading role at Wagstaff + Rogers Architects, he was partner at the architectural firms of O'Brien Wagstaff Architects, O'Brien Wagstaff Linstead, Wagstaff Linstead, Wagstaff Architects, and Wagstaff Rogers.
Wagstaff currently serves as a member of the Larkspur Planning Commission. He also previously served as a member and past president of the Marin Builders Association for six years, and a member of the American Alpine Club for six years. Wagstaff holds a Bachelor of Architecture from California State Polytechnic College, San Luis Obispo.
For questions or to request an interview with Ann Morrison and Brock Wagstaff, please contact Jennifer Golbus at (415) 302-2368 or jennifer@jgolbus.com.
About The Commons Foundation
The Commons Foundation (TCF) is the designated non-profit partner of the City of Larkspur that raised over $5M in funds from over 300 donors for building the new modern library at The Commons between 2018-2022. TCF financial and legal disclosures are available at https://thecommonsatlarkspur.org/about-tcf-legal-fin/.
To learn more about The Commons Foundation, please visit www.thecommonsatlarkspur.org.