Dear Friend,
We have great news and challenges to discuss.
California State Library Awards Larkspur $5.23 Million for new Library
"Officials with the State Library announced Round One recipients of the Building Forward Library Infrastructure Program Grant on Monday, September 12, 2022. The City of Larkspur will receive $5,232,582 to assist with the construction of a new 6,845-square-foot library. The award amount was the maximum amount for which the City was eligible. The award was the eighteenth largest in Round One
The Building Forward Grant Program requires the City to match the grant amount dollar for dollar, making the initial project budget $10.4 million… The City expects construction work on the new library to begin in early 2024." Link to 9/14/22 City News Release and State Letter.
The Commons Foundation is the city's designated fundraising partner for $5M of the $5.2M city match for the state funds.
$350,000 Remaining for 2022 TCF Fundraising Goal
TCF has raised $4.65M of our $5M goal as of 9/14/22. Our goal is to raise $5M by 12/31/22 or sooner. As you see below, we have new outreach planned to close this gap. If you can make a gift, now is the time to do so.
Raising awareness for the new Larkspur library in this year's July 4th parade.
Community Match Launches to Raise 1/3 of Final Goal
We have $60,000 in funds for a community match. Donors who give $500 or more will be matched dollar for dollar up to our $60,000 total. (Fulfilling pledges, or donations already received, will not be matched.) Our Community Match support comes from The Friends of Larkspur Library, the Larkspur Community Foundation, The Tamalpais, Linda & Bill Tichy, Lori Lerner and Terry Berkemeier, and Creekside Neighbors in Memory of Monica Clark.
Many thanks to our generous Community Match funders. We encourage you all to take advantage of this match. If you would like to discuss a major gift to the campaign, we would love to hear from you. Thank you!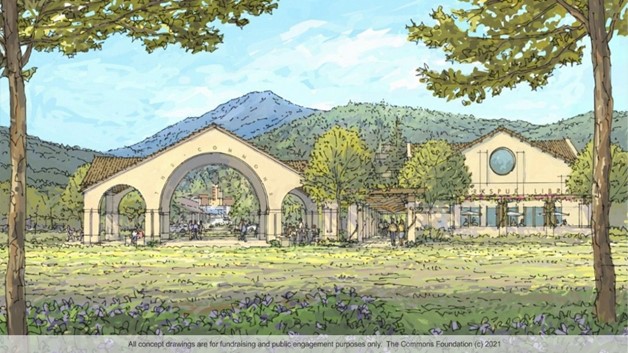 This is a great moment for the community and all our supporters. We are so thankful to all our donors, partners, volunteers, advocates, and board members. It is because of your faith in The Commons Foundation and generosity that we will be able to help the city match the state grant today.
With these extra funds, the city will be able to build phase one and much of phase two at the same time. However, we still need to commit ourselves to raise the remaining $350,000 of our $5M goal by year-end. Please spread the word and help us reach the finish line!
We are getting very close,

Joe Jennings
President, The Commons Foundation