Dear Friend,
We're getting close. Thanks to the generous support of community members like you, every month we get closer to raising $5M for a new library for Larkspur. But we still need everyone's support to get us to the finish line. To do this, we've been raising awareness in the community and spreading the word.
TCF 4th of July Participation
On July 4th, The Commons Foundation and our partners, The Friends of the Larkspur Library and the Larkspur Library Foundation, marched with Larky and a new banner in the Larkspur-Corte Madera Parade. We even won first prize in non-float groups (who knew?). Our group handed out flyers and spoke with the public. There was a lot of excitement for the new library and the #1 question we received was "When will it be built?" Many thanks to Lori Lerner, Terry Berkemeier, Kathy & Jack Green, and our volunteers who marched and spoke with residents and community members along the route.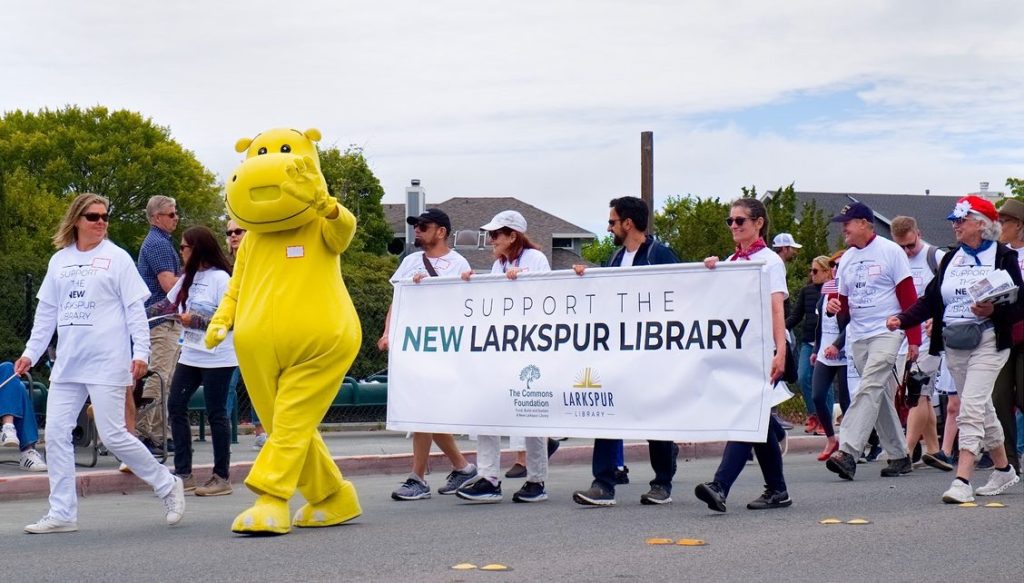 Raising awareness for the new Larkspur library in this year's July 4th parade.
Expanding TCF's Social Media Outreach
The Larkspur Library serves a broad set of communities in Marin County, not just within Larkspur itself. Critical in this service strategy is the virtual library for online services, the MarinNet collection access to all of the Marin County Free Library collection for patrons, the availability of Wi-Fi access, and loaner notebooks for computer access. The new Library at The Commons will enable all of these programs and expand resources available to residents throughout Marin County.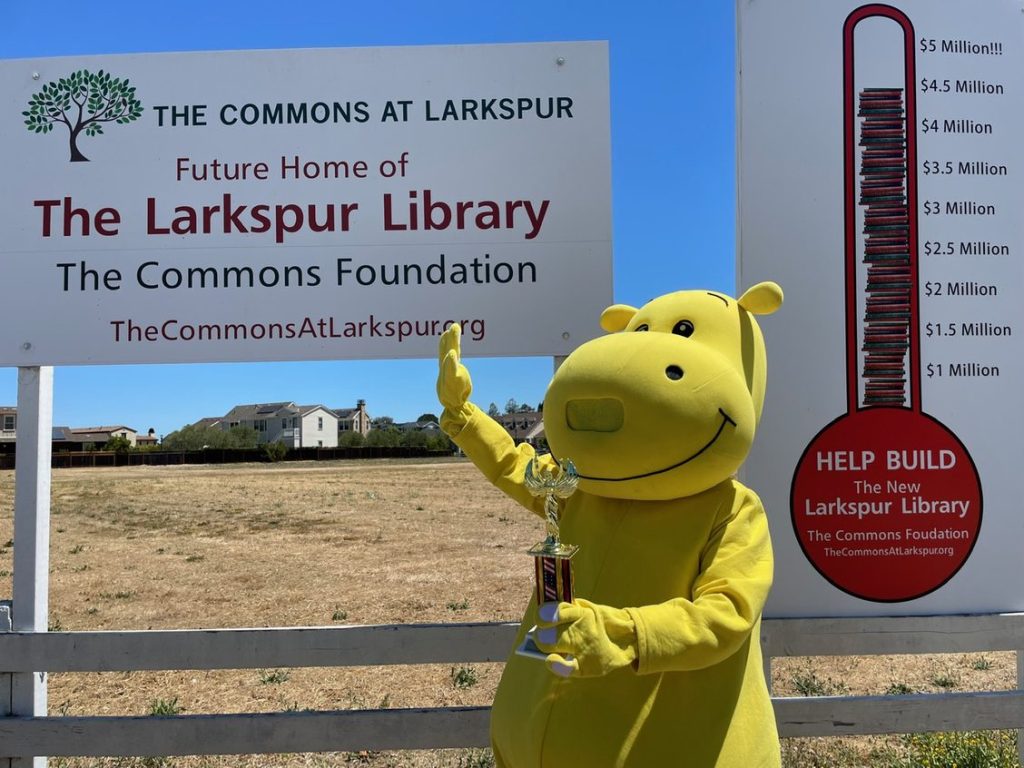 Larky holding the parade award on the planned site of the new library on the corner of Rose Lane & Doherty Drive.
We've raised an incredible $4.3M to date. That's 86% of the $5M we want to provide the City of Larkspur to build the new library. Our goal now is to raise the remaining $700,000 before the state matching grants are announced. If the city gets the full $5.2M they applied for, this would allow us to match most of the funds immediately and for the city to quickly put the building and design project out for bid.
If you can help us with our $700,000 goal, please donate now.
As a reminder, we have $130,000 in matching funds available for gifts of $50,000 or more, and we're planning additional incentives for later this year.
Thank you for your continued support, and wishing you a wonderful and safe summer.
Sincerely,

Joe Jennings
President, The Commons Foundation