Two New TCF Challenge Programs for Donors
The Commons Foundation (TCF) has launched two new challenge programs to match donor gifts for funding the new Larkspur Library building. Gifts received prior to the City's state matching grant application on February 28, 2022, could be doubled again if the state grant for libraries is awarded to the City.
$126,000 TCF Community Challenge matches new cash and pledge donations between $1,000 and $49,999. Sponsors include the Larkspur Library Foundation, former City councilmember Larry Chu, and Larkspur residents Kathy and Brendhan Green.
The Larkspur Library Foundation graciously will match up to $100,000 for qualifying cash donations made before February 28, 2022. "The Larkspur Library Foundation has continuously supported the Larkspur Library for forty-five years including its renovation in 1983. A dream was born with the dedication to the City, without charge, of 2.4 acres of land on the Rose Lane site which the Council designated ten years ago as the site for the Larkspur Library," according Larry Lanctot, President, of the Larkspur Library Foundation.
"The Larkspur Library Foundation enhances achieving that dream by an agreement with The Commons Foundation to match qualifying cash contributions up to $100,000 to the new community campaign. The Larkspur Library Foundation Board of Directors is excited to assist The Commons Foundation and the City of Larkspur achieve their funding goal for the Library at Rose Lane."
.
$1 million Lerner-Berkemeier Challenge matches new pledges and cash gifts of $50,000 or more. Sponsored by Larkspur residents and TCF Board member and Champions Lori Lerner and Terry Berkemeier, the L-B Challenge has raised $200,000 in new pledges and $200,000 in matching funds to date. New major donors include: an anonymous donor, Larkspur residents Tina McArthur and Richard Rubenstein, and Larkspur City Council member and former mayor Catherine Way and her husband Lawrence.
With a goal of raising $2 million in new donations for the TCF Capital Campaign in 2022, the Lerner-Berkemeier Challenge offers the campaign a significant boost. "We strongly believe in the importance of funding and building the best new modern library possible," said Lori Lerner. "We hope our challenge will encourage others to support this important community project."
Additional Sponsorship Opportunities
We welcome donors who would like to leverage their gift at this time to attract more donors. If you would like to provide sponsorship funds for either the Community Challenge or the L-B Challenge please contact:
Joe Jennings, President, The Commons Foundation: joejennings@thecommonsatlarkspur.org
Serena M. D'Arcy-Fisher, Campaign Counsel: Serena@thecommonsatlarkspur.org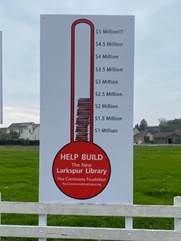 TCF 2021 Financial Performance
TCF ended 2021 having raised $2.5 Million toward our goal of $5 Million, $1.5 Million in cash, and $1 Million in pledges. TCF has published our Letter of Understanding with the City of Larkspur and our 2018, 2019 and 2020 Federal Form 990 Disclosure Statements on our website at:
https://thecommonsatlarkspur.org/about-tcf-legal-fin/
Our 2021 Form 990 will be posted as soon as we have completed our year-end close.
Thank you for your support.
Joe Jennings
President
The Commons Foundation