Dear friends, I hope all is well and you are having a terrific summer.
We're pleased to share some updates with you in this month's TCF newsletter!
August 2023 New Library Project Updates
In May, the City of Larkspur sent out its Request for Qualifications (RFQ) for Prospective Design-Build Entities for the Larkspur Library and Community Space Project.
The following finalists have been invited to respond to the Request for Proposal (RFP) Phase 2 of Larkspur's New Library to provide details of their proposed interior and exterior design features:

Allen Construction + Noll Tam Architects
BN Builders + RNT Architects
Bogard Construction +Jayson Architecture

Design and project development is anticipated to take six to nine months followed by 18 months of construction. The city plans on opening the new library by the end of 2025.
New TCF website
We hope you have had the opportunity to visit out a new website at www.thecommonsatlarkspur.org. Drop us a note and let us know what you think!
Interview with Damon Hill, new Larkspur Library Director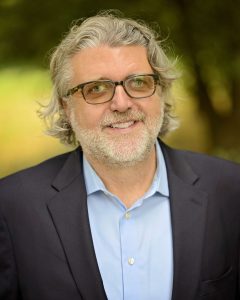 We recently had the pleasure of chatting with Damon Hill, our new Library Director
TCF: We are happy to have you as Larkspur's Library Director.  Can you share with us your library experience and background?
For the past 20-plus years, I've worked for the Marin County Free Library in several roles starting at the Corte Madera branch as Head of Reference, then as a manager at the Civic Center / Anne T. Kent California Room.  For the past few years, I served as Library Service Manager, where I held various roles, including overseeing several branch remodel projects, and overseeing public communications and technology-based initiatives. Prior to Marin, I served as Youth Services Librarian in Oakland and Contra Costa County and briefly taught high school before being drawn to libraries.
TCF: What is your vision for Larkspur's 21st century library?
The Larkspur Library will be a cultural hub that celebrates and inspires the community through engaging diverse programs, showcases local talent, and provides a platform for the public to connect and learn.  The 21st century library will emphasize lifelong learning by providing extensive in-person and online learning opportunities in addition to access to various digital and print resources.
We will collaborate with other local organizations, institutions, and businesses. The space will be flexible and welcoming, accommodating activities such as extensive programs, community gatherings, group study work, and a cozy, safe nook for contemplation. The library will be responsive to the community's needs, and I look forward to hearing from residents about what they need from their new Library.
TCF: What book recommendations do you have for us?
I finished Larkspur Past and Present and would highly recommend it to anyone who hasn't had an opportunity to read it.  I believe it's hard to know where you are going unless you have a strong foundation on what has occurred previously.
Demon Copperhead by Barbara Kingsolver is a beautifully written book, even though it is sometimes dark.
An Immense World: How Animals Senses Reveal the Hidden Realms Around Us by Ed Yong. It was fascinating and humbling to read about how animals can experience and perceive the world.
FEATURED DONOR
Why I donated to the Historical Preservation in the new library.
This week I had the opportunity to meet with Larkspur resident Marilyn River about her generous gift to support a Historical Preservation section in our new library. I asked Marilyn why this was important to her.
Marilyn River and Ann Morrison
Marilyn River: My husband and I moved to Larkspur in 1977. I loved Larkspur's small-town character and my neighbor, Helen Heitkamp, hooked me into all things heritage -first, the 1991 version of Larkspur Past & Present and later the Larkspur Heritage Preservation Board. I was on the board for 24 years before passing the mantle to the next generation of enthusiasts.
Many of us who work to preserve Larkspur's small-town character believe the new library at The Commons is the ideal location to display its modest collection of artifacts and provide education about its rich and varied history. I think it is important to ensure our children are aware of their local heritage. I am pleased to support this cause.
Thank you, Marilyn!
Larkspur Wine Stroll – September 9, 4pm
TCF will be outside the current Larkspur Library during the Wine Stroll event on Saturday, September 9. Please stop by to say hello and learn about the new library plans. We'd love to see you there!
Join the Landscaping Campaign
We are working to ensure the community has inviting and attractive outdoor spaces surrounding the new library so that patrons can read a book, gather with friends, engage in a study program, or simply enjoy the beauty and the view of Mt. Tam. We need your support! To donate to the new landscaping campaign, please visit our new website: www.thecommonsatlarkspur.org. Thank you!
Ann Morrison
President, The Commons Foundation